Formaldehyde/VOC Removal Filter (plastic honeycomb)
Brand Name:trustifiltor;
Efficiency:>99%;
Place of Origin :Guangdong, China (Mainland);
Dimension:Standard Size or customized;
Certificate:ISO9001/RoHS/SGS;
After-sales service system:Overseas third-party support available;
Description
Product Introduction
Formaldehyde/VOC removal filter(plastic honeycomb) is filled with activated carbon or catalyst particles on the plastic honeycomb with large pore size, so as to achieve the adsorption and removal of formaldehyde and VOC.Its main characteristic lies in the super VOC gas capture and decomposition ability.
Advantage
* Lower pressure drop,by regular and consistent hole shape;
* High specific surface area reach high ozone destruction efficiency;
* Customized different schemes for different application scenarios to meet the personalized needs of customers;
Principle
Give full play to the advantages of honeycomb filter with high specific surface area, and carry activated carbon or metal catalyst to achieve the adsorption and decomposition of formaldehyde and VOC when the air passes through the filter, so as to achieve the effect of air purification.
Specifications
Customized according to customer requirements.
Applications
Air Purifier/ Fresh air machine/commercial fresh air system and etc.
Manufacturing Standard
* TF's Standard
* ISO9001
Contact Us
Zhongshan Trusty Environmental Technology Co., Ltd
3rd F, Building M, Nanshui Industry Area, Sanjiao town, Zhongshan city,Guangdong,China.
Web:www.trustifiltor.com
Email:david_zhang@trustifiltor.com
Relevant
Brand Name:trustifiltor;
Efficiency:>99%;
Place of Origin:Guangdong, China (Mainland);
Dimension:Standard Size or customized;
Certificate:ISO9001/RoHS/SGS;
After-sales service system:Overseas third-party support available;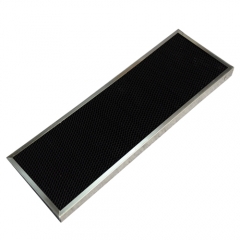 Brand Name:trustifiltor;
Efficiency:>99%;
Place of Origin:Guangdong, China (Mainland);
Dimension:Standard Size or customized;
Certificate:ISO9001/RoHS/SGS;
After-sales service system:Overseas third-party support available;